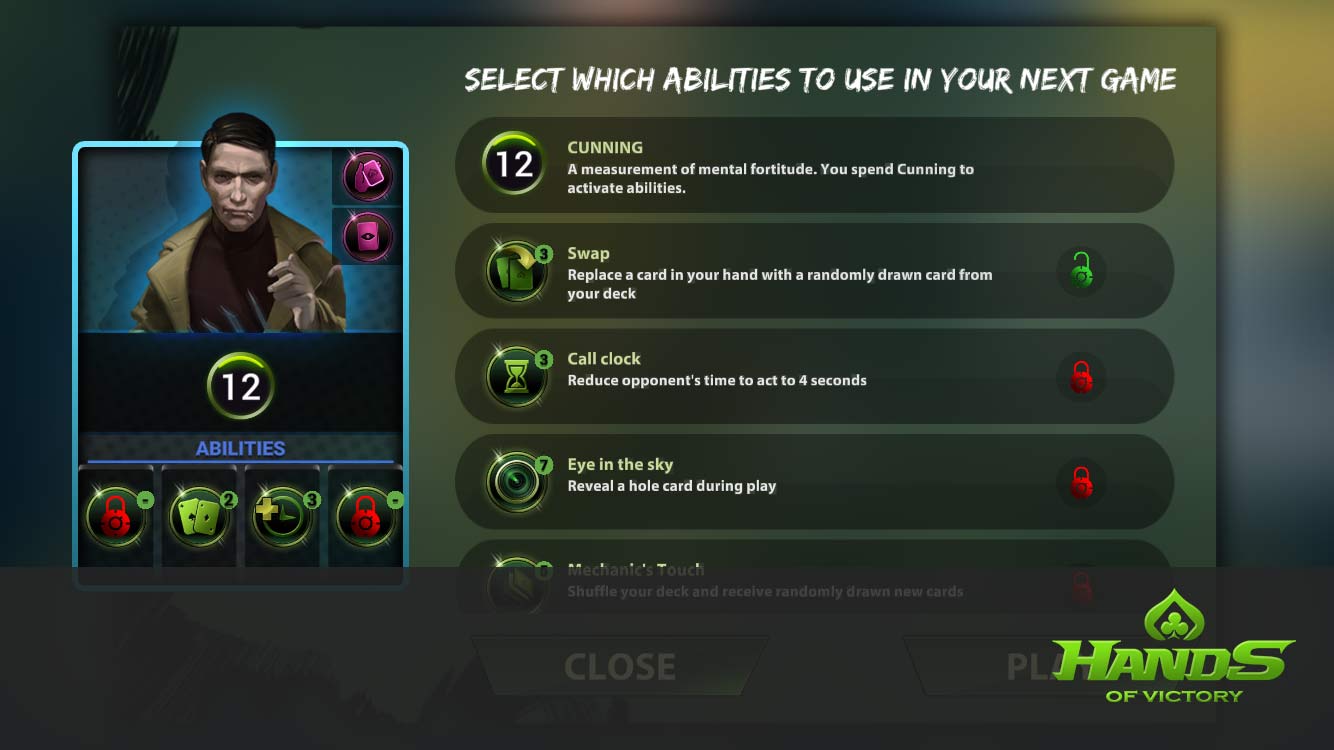 A quick demonstration of "Eye in the Sky" and "Swap" being used during the same hand. 
Edges and Abilities are special actions that have direct impact on the game. Edges are character-specific and trigger automatically while Abilities are activated using Cunning and can be used with all characters. 
In Grind Mode you can customize any character with free and unlocked Abilities.
In Contender Mode you'll be playing with pre-determined builds called Contender Cards. Once you've unlocked competitive play with any one character you'll be granted full customization privileges even in Contender Mode.

Green Abilities
Abilities that do not need to be unlocked and can be added to any character build. Use Cunning to activate.

Blue Abilities
Must be unlocked before they can be customized but can be part of any Contender Card build. Use Cunning to activate.

Pink Edges
.A pink icon indicates a character specific Edge.  Edges can only be used with the original character,

EXPOSE | 1
Information is king! Find out what hole cards an opponent played after a hand is over. You can target any opponent at any time with Expose during an ongoing hand. The cards will be revealed after the hand is over.

ADD TIME | 4
Take your time! Put another 10 seconds on the clock. Once you trigger Add Time none of your opponents can rush you by triggering Call Clock.

SWAP | 3+
Turn the tables by swapping out one of your hole cards for another one in your deck. The cost of triggering Swap increases by one each time it's being used during the same hand. 

MECHANIC'S GRIP | 5
Discard your remaining cards, reshuffle your deck and randomly draw an equal number of new cards after the current hand is over. Native to Shuffler. Reach Rounder status with Hollywood to unlock.

SOUL READ | 4
Trust your instincts! Reveal all cards in a player's muck

TOP UP | 4+
If you are not eliminated after the current hand is over then add 5 chips to your stack.  The Cunning cost increases by 1 every time Top Up is used during a game. Native to Bigstack. Reach Rounder status with Bigstack to unlock.

INSURE | 6
Folding is for fools! If you face a bet and trigger Insure you will call as if the call puts you all-in. All further raises and calls made by other players will go into a side pot. Native to Gung Ho. Reach Rounder status to unlock.

SIXTH SENSE | WUNDERKIND
See straight through your opponents. Expose all hands folded after the flop is dealt.

TELL| WUNDERKIND
Study every mannerism. Each hand and for each opponent you have 1/3 chance to reveal one hole card

RIG | SHUFFLER
Deal from the bottom! Whenever an opponent makes a pre-flop bet you see the first flop card

RIG | SHUFFLER
Always have a trick up your sleeve. Receive an additional fourth card to select from during the Pineapple Draw.

RUN TWICE | BIGSTACK
For some back luck is not a factor. If you're all-in against one opponent as a 60% or more favourite and lose the hand will run out a 2nd time.

STACKED | BIGSTACK
Gain the upper hand. Whenever you play as Bigstack your starting stack will be 65 chips instead of 50. Native to Bigstack.

STUN | CAT
Make that first impression cost. Whenever you raise you cannot be re-raised except for opponent going all-in

COMEBACK | CAT
It's not over until it's over. Return with 10 chips the first time you're eliminated. Amount reduced by 1 chip for each cleared checkpoint.